March 26th, 2010
I have this paralyzing fear that someday one of those camera crews is going to rush me on the street and ply me with unanswerable questions:
"What is the capital of Kazakhstan?"
To which my reply will be:
"Uhhhh….."
or
"Who is the congressman from the 16th district in Pennsylvania?"
"Uhhhh…."
Then, I'll see myself on David Letterman or Jay Leno under 'Ignorant Americans and the Really Obvious Stuff They Should Know' section. It's not that I think I'm alone in not knowing all the world capitals or congressmen, but more of a fear of looking like a dumbass in public.
I'm glad there's a movement out there that's freed people from such fears. The Tea Party Movement seems completely carefree about looking like fools for not knowing really obvious stuff. I kind of admire them in a strange way. Take for example this fellow, who seems to think that Medicare isn't a product of socialized medicine: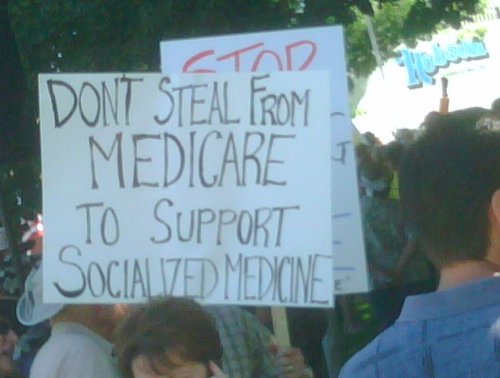 I mean really, you can't buy that kind of confidence. Also admirable about the Tea Party Movement is their almost foolhardy defiance of logic and steadfast refusal to give in, even in the face of startling hypocrisy.
http://www.washingtonpost.com/wp-dyn/content/article/2010/03/25/AR2010032501722.html
Mike Vanderboegh, a self-proclaimed former militiaman has been encouraging his followers to fight back on the Nazi, commie fascist healthcare takeover that will surely be the ruin of the nation. His solution is to break the windows of those that voted for it.
"So, if you wish to send a message that Pelosi and her party [that they] cannot fail to hear, break their windows…Break them NOW. Break them and run to break again. Break them under cover of night. Break them in broad daylight. Break them and await arrest in willful, principled civil disobedience. Break them with rocks. Break them with slingshots. Break them with baseball bats. But BREAK THEM."
That'll teach 'em. Now this is a true American, this guy works for every last dime he has, no one will rip his slingshot from his hands, especially not some Maoist demon touting health care reform. That is, until you get to page two of the Washington Post article.
"Vanderboegh said he once worked as a warehouse manager but now lives on government disability checks. He said he receives $1,300 a month because of his congestive heart failure, diabetes and hypertension."
See what I mean? That kind of blind confidence just can't be manufactured, it comes from the heart, a heart that currently lives on a socialized medical fund….but still. Vanderboegh seems oblivious to the contradiction that is his philosophy but I kind of like him for that. He reminds me of when I was eighteen, nineteen years old and used to sit around with my friends, Reality Bites style, talking about how we were never going to work for 'the man' and we'd never compromise our art. Of course, Monday would roll around and we'd go to classes paid for by our parents who earned the money we were wasting by working for 'the man' and when we were low on rent, we'd call our moms and beg for some of her 'man' money. But we were bold, you have to give us that.
Vanderboegh has proven to me that that kind of precocious naiveté doesn't have to disappear in your early twenties. You can cling to it all the way into adulthood, and you can even start a whole political movement based off the otherworldliness that comes with illogical arguments and ill-informed, selective research.
So, thank you Tea Partiers, without you, we wouldn't have had nearly so much entertainment over the last year. I mean who can bring the C to the Razy like the Birthers, who would have to chutzpah to tell spell check to shove it like the radical right?
or this little gem:
Finally, I'll leave you with this, an oldy but a goody. Rest easy my Tea Party friends, and don't let the man get you down.